C6 Lake Washington Carriage House Remodel

704 Lake Washington Blvd S
Seattle, WA 98144
OPEN SATURDAY MAY 4TH
11 AM – 5 PM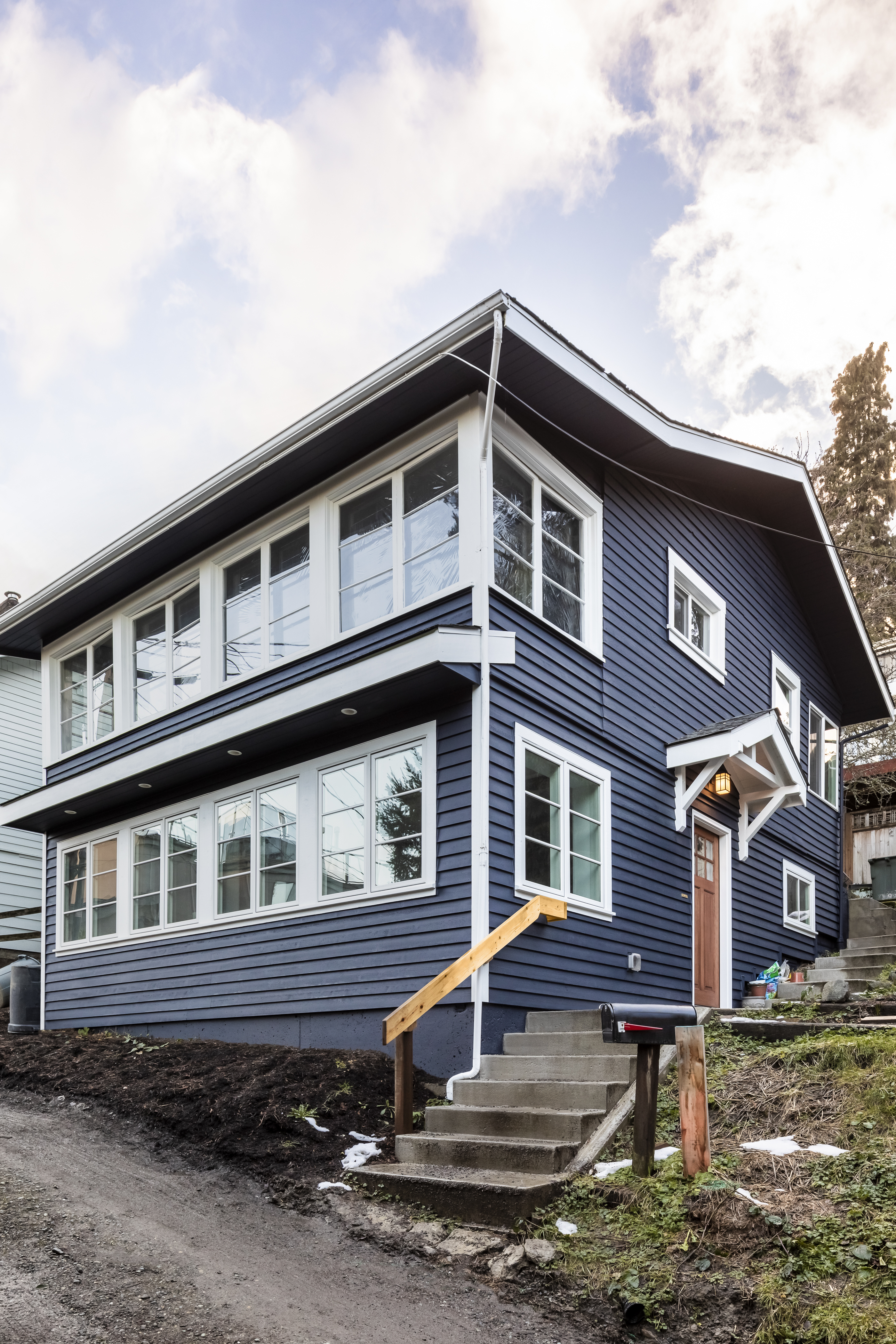 Site Description
FEATURES: Indoor Air Quality, Materials Conservation, Energy Efficiency
Scope
This Lake Washington carriage house needed more functional living space, more natural light, and a whole new heating system for both levels of the home, and separate spaces for hobbies and interests.
Clients wanted to save money on energy bills and were interested in low maintenance, preserving and refinishing throughout the project, low/no VOC materials. Green practices were a high priority for this project.
The clients: she loves woodworking, he's in a band. Each needs a unique space for their interests.
Challenges
The biggest challenge with this project was in getting the plans through the permitting process.
An energy-efficient, well-within-budget heating solution for both levels of the home was needed.
The clients needed a way to access the washer/dryer appliances without having to go outdoors to use them.
Solutions
The biggest improvements in energy efficiency included a drop in 10 air changes per hour, the choice to put in a new heating system for both levels and to insulate the basement well. A radiant hydronic heating system was installed, which doubled as an on-demand water heater. This installation helped save a significant portion of the budget, which was reallocated to help stabilize the home's foundation.
The original shiplap in the home was repurposed in the new design.
The clients had salvaged a beam that they sliced into "slabs" and then installed in a herringbone pattern to the upper level's floor for a striking look and repurposed functionality.
The exterior stairs were poured and we also made a narrow ramp just next to the stairs so the avid bike rider-clients could roll their bikes up the ramp instead of lifting them while walking up the stairs.
Results
The awkward and unlivable basement was transformed into an additional floor of conditioned living space that meets the client's needs. Even though a majority of work was completed in the basement, the addition of livable square footage allowed them to rethink the use of space on the main level. Our clients also put their own stamp on the project by completing some of the more intriguing finishes themselves.
​
Video
https://drive.google.com/file/d/1NDc0LgiWHU7xa4sg-UvARFLThyKlRzLL/view?usp=sharing