S3 Olympia Coffee Roasters West Seattle
Seattle, WA
​
​
OPEN SATURDAY MAY 4TH
7 AM – 6 PM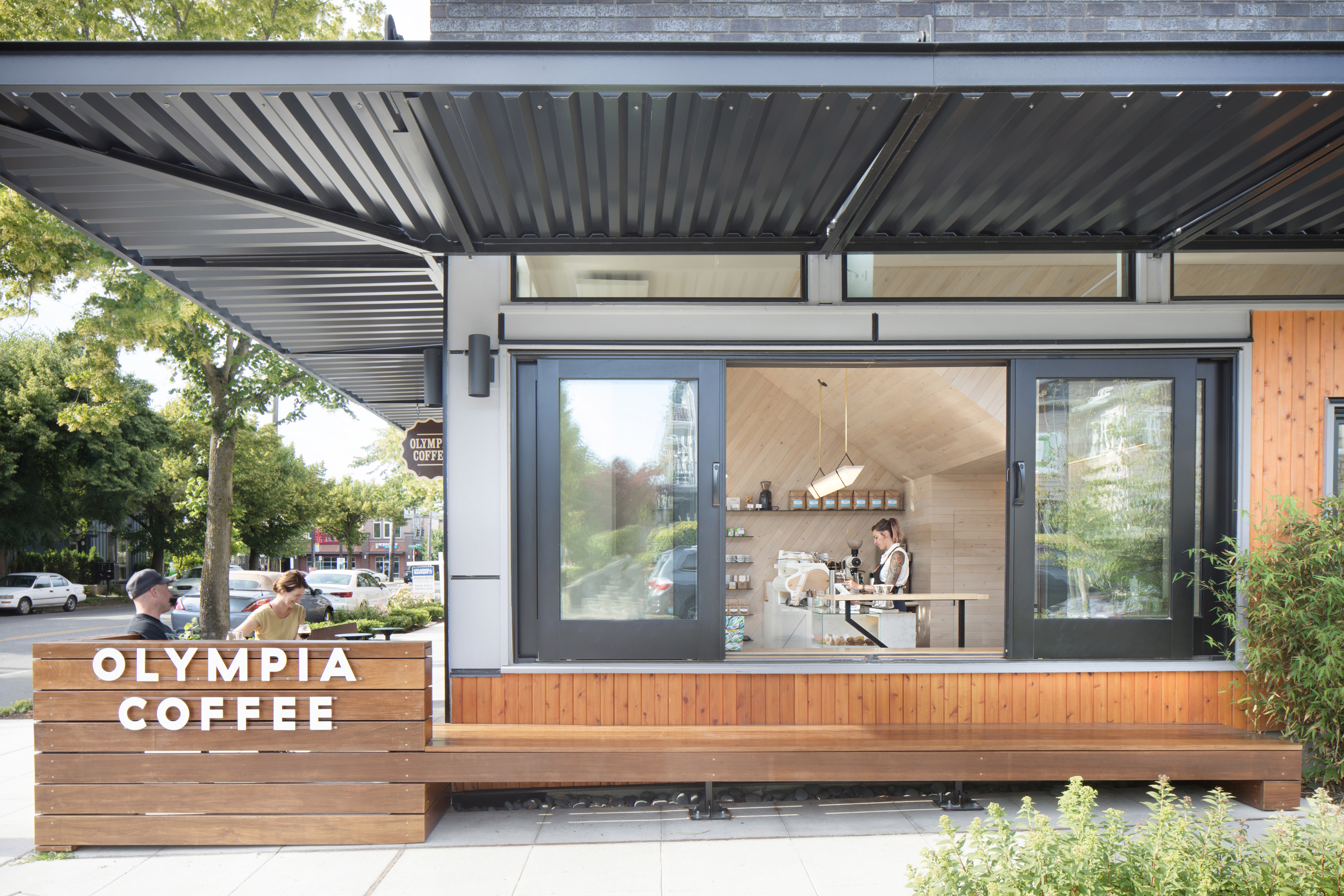 Site Description
FEATURES: Sustainable Business, Direct Trade, Community Strong, Sustainable Coffee
West Seattle Sustainability – Olympia Coffee
It's the Northwest Green Home Tour!  Enjoy a Sustainability Stop at Olympia Coffee Roasting Company's beautiful, bright and cozy West Seattle neighborhood cafe.  And visit with Artisans Group interior designer, Katherine McBride! 
A delicious cup of coffee and a dash of casual neighborhood conversation with a local and international award-winning sustainable architecture firm's interior designer.  Then – continue your Seattle Green Tour – sustainable architecture – sustainable design – sustainable community.  
Sounds like a good Saturday.
Olympia Coffee on California Ave
Located on the corner of Bradford Street and California Ave in West Seattle, the cafe is a return to roots for Sam Schroeder (a co-owner of the company), who grew up in the neighborhood.  Designed by rising stars of sustainable architecture and design, Artisans Group , and built by the incomparable Field Assembly, this cafe is a small but mighty statement that Olympia Coffee is here – delivering an uncompromising and wonderful coffee.  Filled with handcrafted bespoke touches of design, this cafe reflects Olympia Coffee's devotion to long-term thinking and community investment.
​
Olympia Coffee Roasting is a small, quality-focused coffee roaster based in the Pacific Northwest. With cafe locations in Seattle, Tacoma and Olympia, Washington, they are on a mission to improve the quality of life for their coffee farmers, employees and customers while sourcing, roasting and brewing delicious coffees.  National award-winning local coffee roaster – Micro Roaster of the Year, United States Barista Champion, United States Coffee and Good Spirits Champion, United States Brewers Cup Championship and the Good Food Award Winner – Olympia Coffee.
Olympia Coffee Roasting is also proud to be a Certified B Corporation®.  Certified B Corporations meet higher standards of social and environmental performance, transparency, and accountability.
Cafe Design Questions – West Seattle – Olympia Coffee – straight from Artisans Group
What is that incredible light over the espresso bar?
Good story.  Oliver and Sam had been onboard with design idea after design idea – but the light was a sticking point.  Because of the cafe's size and layout, they wanted the light to really reflect Roussa's design. Everything we found they said no to – always too something.  It was Oliver and Sam who found Hinterland Design and their Dendera pendant.  It's a real testament to them as clients and as a business – their genuine concern for the long-term – their desire to get something right because the neighborhood's experience of design could be made just a little bit better because of that detail.            
What did you like about this location for Olympia Coffee's first Seattle cafe?
According to the project's design lead, Roussa Cassel, "Sam and Oliver wanted to expand but also wanted to do it in a conscientious and regional way.  They liked the idea of being a boutique café in a neighborhood, and one of the owners, Sam, grew up here, so for him, it was a sort of homecoming."
We love all of the wood!  Why so much wood and what is it?  And where did the woodwork all come from?
The total space available for the cafe's interior is 500 sq.ft.  500 sq.ft. and plenty of windows to let in plenty of natural light.  Wood gave us more control over the lighting, because, wood is amazing, what with its ability to both exude warmth and be clean, modern.  We worked closely with sustainable sourcing mainstays of the Pacific NW, Windfall Lumber, and we filled this cafe with custom maple stools, tables, cabinetry and walls.  Now it feels like it belongs to its spot in the world, like it's here to stay and be enjoyed, a proud part of the Pacific Northwest.
Where did you get the letters for metal Olympia Coffee sign?
Every element of this cafe has Roussa Cassel's signature on it, down to the individual letters of this sign.  The sign and seating metalwork was crafted by Studio 23 Metalworks.
​
So…the espresso machine?  It's incredible. Why are Olympia Coffee espresso machines always so cool?
Years ago, in the underground coffee scene, Oliver and Sam met Jacob Ellul-Blake and bonded over a similar passion for high quality craftsmanship and attention to detail.  They've since worked with his business, Pantechnicon Design, to create multiple custom La Marzocco espresso machines for their cafes.  We agree – they are incredible – we always look forward to seeing their every creation.