Pacific Studio
(home and office)

Open (virtually) Sunday, Sept 13
FREE Tickets for this Site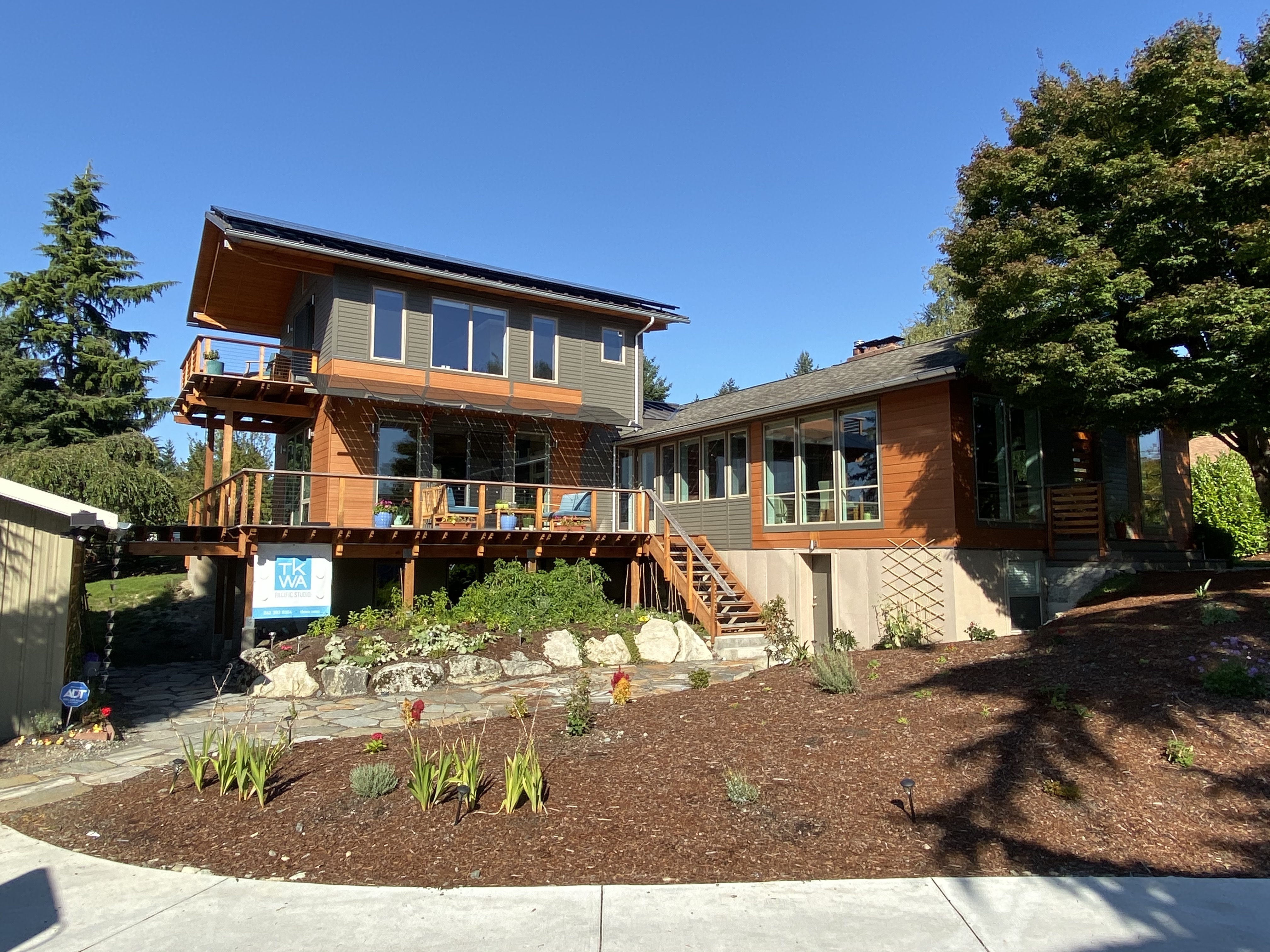 Site Description
FEATURES: Energy Efficiency, Indoor Air Quality, Materials Efficiency, Design Innovation, Solar Power, Advanced Building Envelope, Equity Endeavor
We set out to find a fixer upper, something modest that we could turn into something special. I saw potential in the bones and the fact that it was sitting on 15,000 sf of land. After a year of looking for a home, we finally had one!
​
I was then off to create "the poor man's passive house". The philosophy was simple:
First do not build if you don't need to (we saved the land from being overrun with giant boxes that only rich people can afford)

Keep or maintain what is there if possible (saved the house from demolition along with a detached garage)

Try to recycle (recycled everything we could and saved basic materials for creative use later. Every 2×4 found a new place in the structure)

Then add only what you need (Addition came later. We have 3 kids and I work from home so there is a great economy in staying this local)

Make it the highest quality you can (solid woods and high performance products)

Keep it clean (No VOCs, natural materials)

Make it renewable (solar panels, heat pump, energy recovery)
​
The potentials of this house were the sizable land, southern exposure, quiet and diverse neighborhood, good school district, and, if you build up… a stunning view of Lake Washington and the mountains beyond.
​
We decided to first fix what we had. The simple gable home had to be gutted due to the presence of asbestos. This allowed us to start completely new with insulation, electrical, structure, and clean materials. We reframed the walls and roof to eliminate thermal bridges and to greatly increase the insulation value. This included a 30' vaulted ceiling over the living areas. We achieved R35 walls, R65 roof, and the lack of thermal bridges only increases the actual performance values. Triple pane windows that meet passive house standard were added everywhere. Toxic plastics and mold attracting fibrous materials were removed. Plywood and solid wood were used where practical, especially on the vaulted ceilings. The only original finishes that remain are the stone fireplaces and the oak flooring which is now refinished. The exterior too had its aluminum skin recycled and replaced with Resysta, a rice husk based stained siding. The asphalt shingle roof will remain until it has reached the end of its useful life (saving its embodied energy) and then replaced with metal.
​
An addition included a master bed suite on the second floor with a massive view of the lake and mountains and a private deck, an office on the main level with its own view of the mountains along with a wrap around deck, and a recreation parlor in the walkout basement. The addition continued the high construction standards and hosts the solar panels that produce more energy than this highly efficient home can use. Vegetable gardens, stone terraces, and abundant connections between the inside and outside (7 doors to be exact) complete the sense of place.
The home serves as a working studio (I am a partner in my architectural firm), and as a community venue. We host 30+ children every Saturday to promote the development of character and service. 4 rooms in the house double as classrooms and the site supports outdoor play and garden learning. A 1-bed apartment in the lower level is an affordable home for those in need.